Have you seen a dream where you are the king of a beautiful kingdom and your queen has been kidnapped by the Evil monster's Head and in the attack your many soldiers are dead and now you have to rescue the queen from the hands of Evil. You plan to attack on the Hill where Evil Gang's Headquarter established. You Enter in their area and seen unseen creatures and monsters that are ready to kill you at any moment. Your Queen is at the top of that dangerous castle. You take out your Great Sword and the Fight Begins to rescue your Love and Then…
The RPG (Role Playing Game) is can be described as an interactive novel, short story, movie or T.V show where the players take on the role of one or more main characters in the story and try to make them act like the character on which it is based on. In these RPG Games you are allowed to enter in a world where myths and magic is used and you have to use your resources to fight against all your terror. After every battle you become stronger and stronger and face more powerful enemies that can capture your world by their evil hands.
A common thing which is available in all RPG Games is a strong epic story that generally based on the fantasy novels like Lord of the Rings, He Man and the sorcerer's stone etc. When it reaches to climax then situation arises that takes the character to another epic quest. The Mac Community loves these RPG Games and as they always had loved the action and adventure games and this Genre have both these elements in it.
In the Mac RPG Games you can redefine the battle as these games will give you the unique playing mechanics. You can fight randomly with the monsters and combat with high voltage action. Your health and speed plays an important role in these Mac OSX RPG Games. Mac Hack n Slash Games are a sub-category of RPG where FUDGE based operations is everything.
You should play the Mac RPG Games on new OSX Snowleopard as it provides the best graphics support so that these fantasy world also look better and you have the best Mac RPG Gaming experience.
Each time you fight with your enemy and win, it gains the experience and this helps to increase in level. In some recent Mac RPG Games you can win some sort of money or treasures too like gold coins, diamonds and can purchase armor, health potions, magic spells and other powerful attacks that can help you in next level.
After online Gaming started, these games being played worldwide and thousands of participants play a game from their personal computer and win prizes too. Some most popular Mac RPG Games include World of Warcraft, Dungeons & Dragons, The Burning Crusade, Wrath of the Lich King, EVE Online, City of Heroes, Disney's Toontown Online, Pirates of the Caribbean Online and many more. These Games are MMORPG i.e. Massive Multiplayer Online Role Playing Games which will give you complete different level of gaming experience which you have never felt before.
Today's Games - Hidden Object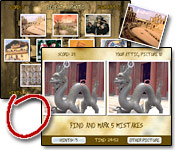 The Time Portal
The Time Portal can be played without a company or with your whole family members to solve the puzzle correctly and in a limited span of time.
Best Hidden Object Games for Mac