Remember the days where you were in your elementary school and learning the alphabets and letters in your composition book and your teacher has given you the task to read the chapters and you can't forget to complete the long division assignment. Here was the requirement of educational software so that the kid's brain sparks with a new imagination. The new Mac Educational Games are the combination of education and entertainment so that it gets the attention of the kid and make them learn in an interesting manner.
Many Software companies are now in the business of entertainment with education to capture the child's attention. So they are making educational games to help kids enjoying and maintaining the interest in the educational activities.
The Mac Educational Games can be categorized in three parts. These are:
Titles that Entertain
Titles that Educate
Title that does both entertainment and Education
These Mac OSX Kids Games are made in such a manner that it does not need a great gaming experience or skills like hand-eye coordination to play these. Since it is for the kids, the level of intelligence required to play is also set according to the kids. But there are the customization options that can be used to set higher difficulties.
There are some really popular Mac OSX Entertainment Games available like Toontown Online where you can go to an amazing Disney's Kingdom and create and personalize own toons and Join Forces with their Friends to defeat the robot dogs. These games are advance than people generally think and in this each Toon get a Toon house. Many other things like speedchat, secret friends parental control technologies etc make the game unique. The game comes in the category of Massive Multiplayer online game where the kid can interact with other kids and can participate with special events and holiday activities.
Some popular games include Amju Classic, Amju Super Golf, Androkids, Baby Labyrinth, Bonnie's Bookstore, Bookworm Deluxe, Brickshooter Jr., Ignazio the Frog, iPuzzle, Jig Words, Lua Lua, Quizland
If you look for the Mac OSX based games then can easily find countless number of titles which are capable to run on the latest Mac OSX Snowleopard too. Many of the Game sites offer you the Demo as a Free Download so that you can visualize the experience of the game and then decide to buy that Mac OSX Kids Game. When you are going to select the games, you should also see the system requirements to play the game so that there will be no problem while playing.
Today's Games - Word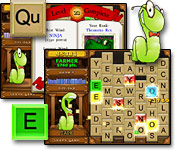 Bookworm Deluxe
Improve your vocabulary and word knowledge with fun loving word game. Create long words to earn big score and feed the bookworm.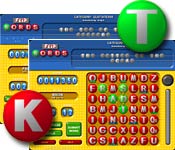 Flip Words
Flip words is exciting word puzzle game for all ages of people. Fill the phrase with missing letters to earn extra points. The game will improve your word power skills.
Best Word Games for Mac