Blue Reef Sudoku
About the Game: Games are one of the ways to get entertained, increase concentration, memory power and utilize the spare time. Blue Reef Sudoku is an undersea puzzle game which is based on numbers. There are three game modes in this game you can choose \"Play Puzzle\" or \"Play Arcade&quat; or \"Use Puzzle Creator\" to make your own tile pattern.


How to play Blue Reef Sudoku: To play this game you need to choose the grid size, for a beginner it should be better to start with less grids and an expert can go for 16 X 16. This game consists of nine grids. Rows, columns and grids should be filled with the digit 1 to 9 digits without any duplicate occurrence. Some numbers are already filled beforehand you can not change these number; instead you are required to play the game with the help of these numbers. One row is having the number 2 and in the same row a grid is having number 2 missing, over here you cannot fill 2 as it have already been filled. You need to use another blank place in the grid to fill the missing number 2. Similarly, if any column is filled with a number say 8 and the same number is missing in a grid you cannot fill it as it leads to invoke duplicate number in the column. You must use another suitable blank place to fill number 8. Hint box is also available to help the players, if do not require it you can disable it by clicking on the hint button placed on your left. To fill a number select the box then enter a number which you fill is most accurate. Additional buttons available are \"undo&, \"show error\"and \"solve the game one square randomly\". Play this game; have fun increasing your concentration.

Some features of this game


Discover the beauty of underwater life.
It is having outstanding graphics.
This game can be easily played.
Minimum System Requirements


Operating System of Windows or Mac OS.
Pentium of 800 or more than that.
At least 128 MB RAM is required.
DirectX 9 or of later version.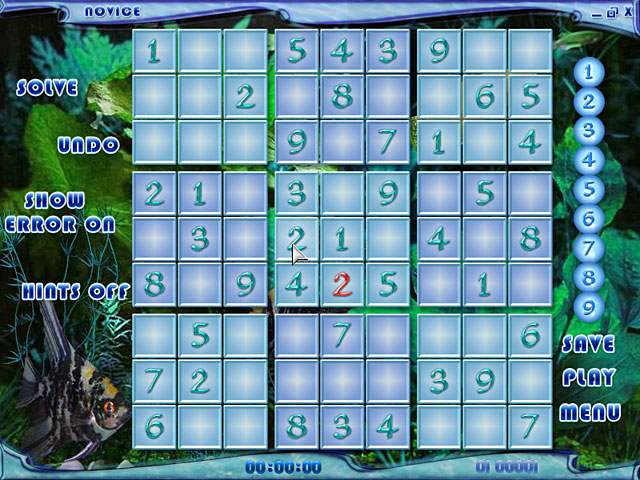 Some More ScreenShots...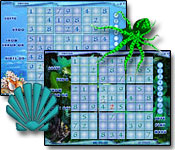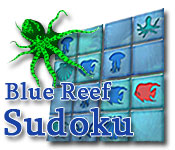 Like to say something about Blue Reef Sudoku